TFCA Friday: Week of Dec. 2
December 3, 2022
Welcome to TFCA Friday, a weekly round-up of film reviews and articles by TFCA members.
In Release this Week
All the Beauty and Bloodshed (dir. Laura Poitras)
"Both complex and rawly immediate, All the Beauty and the Bloodshed, Laura Poitras's film about the 69-year-old photographic artist and activist Nan Goldin, is a great documentary and maybe the most essential film of the year," declares Liam Lacey at Original Cin. "One layer of Poitras' film is a celebration of Goldin's life and art, mostly colour photographic portraits and slide shows of herself, drag queens, punks, drug users and members of the LGBT community. It resonates with a kind of squalid glamour, often shot in dark cluttered interiors, from the late '70s on through the AIDS crisis. While Goldin's work has the fine art stamp of approval from the Tate Modern and the MOMA, her style has become broadly emblematic of a sub-culture, used in such films such as Lizzie Borden's Working Girls (1986) and Lisa Cholodenko's High Art (1998)."
Dubbing the film "surprising, blistering and ultimately inspirational," Barry Hertz interviews director Laura Poitras. "There is a different quality to the intimacy," Poitras tells Hertz on her relationship with Goldin. "When I think about Edward Snowden, that was someone who literally trusted me with their life. I felt the burden of being sure not to mess that one up. This was a different set of burdens. I wasn't interviewing Snowden about every aspect of his life, like Nan. It's a different kind of knowing someone."
"All the Beauty and the Bloodshed is not only the best documentary of the year, but also 2022's finest film. Laura Poitras' profile of controversial, ground-breaking photographer Nan Goldin is remarkable: political, artistic and emotional," writes Marc Glassman at Classical FM. "Poitras's film shows us all of Goldin's past history, beautifully buttressed by brilliant photos, including excerpts from Ballad of Sexual Dependency. In the contemporary footage, Poitras and the audience follow Goldin and her friends at P.A.I.N. as they attack the seemingly impregnable Sacklers. At first, we see demonstrations opposed by authorities and hear about illegal surveillances on P.A.I.N. activists presumably financed by the Sackler family. But then things change for the better."
At Afro Toronto, Gilbert Seah calls is an "occasionally powerful and (righty so) angry documentary."
"Of the twin tales, I found the activist one the more compelling. Goldin, borrowing from the playbook of the AIDS Coalition to Unleash Power (ACT UP), organizes sit-ins and demonstrations at museums and galleries that have taken money from the Sacklers and prominently display their name. In time, donations are refused and plaques removed," writes Chris Knight at the National Post. "But there's something to be said for the personal side of the story. We are not fully defined by our grudges, our causes or even our passions. Poitras understands that, and delivers a well-rounded portrait of a complicated individual."
"Laura Poitras' documentary on artist Nan Goldin, photographer, activist, and personality, All the Beauty and the Bloodshed will leave you breathless," writes Anne Brodie at What She Said. "Poirtras' dexterity and careful building of the chapters of Goldin's life are flawlessly measured. From heart-tugging personal archives dating back to her fifties childhood to contemporary footage of her group P.A.I.N's anti-oxycontin die-ins protesting Big Pharma Purdue and the Sackler family that created a chain of drug use that has to date cost more than half a million lives. Poitras' approach is strictly measured to create the platform for Goldin's outsized personality, her passion, exuberance, and determination to bring down those who through greed and corruption created and upheld a global addiction epidemic.|
At POV Magazine, Pat Mullen calls the documentary "Poitras' best film yet" and speaks with the director about collaborating with Nan Goldin, enduring surveillance, and following the money. "I've always felt that collaboration is when you make work about people and it's about people's lives," says Poitras. "Nan said, 'I'd never do street photography.' Of course, she never does. She never films strangers. The people in her work are her friends, her lovers. I knew that about her work, but spending time with that, as we think about the questions around positionality and ethics, we know where Nan came from while approaching her work. It's a great time to revisit those questions."
The Ark of Lilburn (dir. Nicholas DeKay)
"This is actually a documentary about very stupid people," observes Gilbert Seah at Afro Toronto. "The very idea of building a huge boat away from the water that need transportation that is an almost impossible task speaks for itself in terms of stupidity. The builders hire stupid movers who are more talk than anything else. When the boat after lots of hassle eventually lands at its destination, what would ensure that the boat will float?"
Ashgrove (dir. Jeremy Lalonde

🇨🇦

)
"There is a point in the film where Ashgrove's tone and story changes," writes Rachel Ho at Exclaim!. "Because LaLonde has been leaving clues and details during the move to this point, this shift doesn't feel startling or sudden. Instead, the back half of Ashgrove is engaging and a reward for eagle-eyed viewers. However, where the film falls short is in its abrupt ending."
"Ashgrove is a smart, character-driven drama whose science-fiction underpinnings feel natural rather than contrived," says Chris Knight at the National Post. "After all, in the near future, when this story is set, about the only thing we can be sure of is that human nature will remain the same."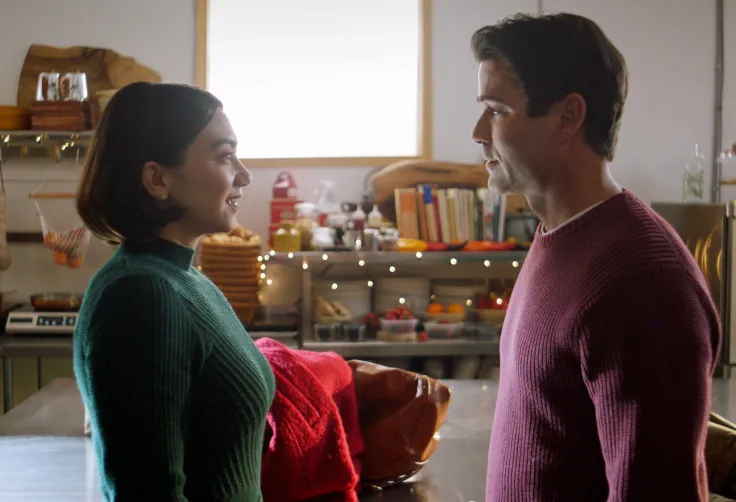 Baking All the Way (dir. Yannick Bisson

🇨🇦; Dec. 5

)

"[I]t's sweet but formulaic which hardly matters considering baked goods," chews Anne Brodie at What She Said. "Colin Mochrie is Julia's hilarious B and B owner, with Mochrie's wife Deb McGrath as his wife, she's fun too! Jayne Eastwood another comic legend plays his mother and boom, they're off."
Broadway Rising (dir. Amy Rice; Dec. 5)
"The same format of a COVID documentary could also be made for other affected industries such as the hospitality industry, the fitness industry or the film industry," says Gilbert Seah at Afro Toronto. "Broadway Rising because the doc is about theatre is able to show more aplomb, glamour and fabulousness. The only thing missing in the doc appears to be the rendering of the musical number, Irving Berlin's 'There Is No Business like Show Business.'"
Confessions (dir. Luc Picard

🇨🇦

)
"The banality of evil has never been more forcefully depicted. Confessions has the feel of a real gangster movie," writes Gilbert Seah at Toronto Franco.
Hunt (dir. Lee Jung-jae)
"Hunt plays like an excellent espionage action thriller, director Lee, himself an action actor who knows all the ins and outs of making a solid action thriller," notes Gilbert Seah at Afro Toronto. "He also adds to the formula the female element and strong women personalities as well, in order to balance the gender equation in an otherwise all male cast film. The action set pieces are excitingly choreographed with impressive editing coupled with music that enhances the thrills."
"The shock value of endless twists is extraordinarily high, as masks are lifted and murder, torture, and terrorism only edge things towards total disaster," writes Anne Brodie at What She Said. "And there is the nuclear problem. Steel yourselves for a bumpy ride, it is well worth the bruises."
"The movie's habit of hopscotching from crisis to crisis is exemplified by the sudden news that a North Korean fighter plane has just entered South Korean space," says Liam Lacey at Original Cin. "The plane, it turns out, is being flown by a would-be defector, willing to buy asylum in exchange for the key to a North Korean military code, which reveals information about North Korean agents working in the south."
The Inspection (dir. Elegance Bratton)
"The character played by Jeremy Pope in The Inspection is named Ellis French, but he is to all intents and purposes Elegance Bratton, the film's writer and director," notes Chris Knight at the National Post. "Bratton was kicked out of his home at age 16 for being gay, and 10 years later joined the Marines, serving for five years as a combat camera production specialist. The Inspection is 'inspired by a true story.' His own."
"Union shows a range that we haven't seen from her before, delivering an absorbing performance deserving of the awards consideration given so far," observes Rachel Ho at Exclaim!. "As for Pope, he brings his theatre charm and showmanship to French. He doesn't simply elicit sympathy from audiences for the hardship he's faced with; Pope actively creates a likeable young man that we want to see succeed regardless of the adversity he faces."
Lady Chatterly's Lover (dir. Laure de Clermont-Tonnerre)
"We follow their erotic adventures as they become less careful, romping in the fields naked, and occasionally being seen together. Her clueless, self-centred husband is blind or willfully ignores his thoughtless cruelty," writes Anne Brodie at What She Said. "She becomes pregnant and risks everything to live the life she desires. Lots of sex scenes, lots of them, acres of flesh. Pretty to look at, and modern for its time, maybe not ours, Lady Chatterley's Lover redux does the job with perhaps too many close-ups but it's a satisfying period piece."
Missing (dir. Shinzô Katayama)
"Missing is an impressive and solidly executed mystery puzzle told through flashbacks that every mystery fan should enjoy," writes Gilbert Seah at Afro Toronto.
Neil Young: Harvest Time (dir. Neil Young)
"Harvest Time meanders. There are seemingly random conversations that leave one wondering how they made it through the editing process. People close to him at the time, including the actress Carrie Snodgress, are in the background, but identified. Time is devoted to a chat with a loud and ebullient deejay, and to a surprisingly savvy impromptu interview by a charismatic young boy/budding-operator in the Nashville studio," writes Jim Slotek at Original Cin. "But the film's sense of being in no hurry seems of a piece with its director – who, nonetheless, accomplished everything he set out to do."
Please Baby Please (dir. Amanda Kramer)
"Lit in neon blues and pinks in claustrophobic surroundings — with lots of make-up and fitted costumes — the film has a strong stylistic imprint, but it's clumsy in the writing, both in the lack of narrative momentum and the strained dialogue. Repeatedly, the characters make blunt proclamations: "Men are the executors of history,'" writes Liam Lacey at Original Cin. "Forays into camp humour are barely better. The puckish Cole Escola (Search Party) plays a mocking gay bar denizen who attempts to help Suze and Arthur with their awakening transitions, and in a separate role as a distraught housewife with flower decals on her eyelids, singing a ballad in a telephone booth."
Spoiler Alert (dir. Michael Showalter)
"Spoiler Alert frequently echoes Billy Eichner's more personable Bros. Many narrative beats mirror the R-rated comedy. Spoiler Alert, while being consistently charming and heart-warming, never hits the heart, humour, or hunkiness of the raunchy rom-com," notes Pat Mullen at That Shelf. "Alternatively, one must also admire its restraint. Spoiler Alert doesn't concern itself with 'historic' 'firsts'. It knows that there's nothing history-making about Michael and Kit's relationship. People live and people die."
Sr. (dir. Robert Downey, Jr.)
"The black and white photography takes things down to the bare essentials – those feelings shared between father and son; they don't hold back and it will get you," remarks Anne Brodie at What She Said. "Brilliantly and subtly made, Sr. tells all of our stories of life and death, family, and enduring love and loss. Two great minds, two great artists showing us what it is like for them. Take your tissues."
Stay the Night (dir. Renuka Jeyapalan

🇨🇦

)
"Jeyapalan's affection for the King Front Bathurst area is loud and proud; there's a Niagara Street sign," notes Anne Brodie at What She Said. "We know exactly where we are. Grace's 'home' address is 27 Crawford St – that's pretty specific. Grace and Carter hit endless familiar bars, restos, stores, and the island airport in this tiny bustling village within the city."
Tiger 24 (dir. Warren Pereira; Dec. 6)
At Afro Toronto, Gilbert Seah says the film "challenges its audiences on key ethical issues as well as examines the life or real wild animals. Tiger 24 is definitely a doc worth watching."
"It's a painful story, and there are brief moments of hunt aftermath but it's a tribute to T-24 and a warning against inept treatment by those charged with tiger and environmental protection. He remains in custody with health problems after India's top court allowed it," writes Anne Brodie at What She Said.
Troll (dir. Roar Uthaug)
"[A] decently made Norwegian Godzilla disaster movie, that though delivers nothing fresh in the genre satisfies as standard commercial entertainment," writes Gilbert Seah at Afro Toronto.
Violent Night (dir. Tommy Wirkola)
"[A] gory and bad Christmas film that combines violence, swearing and the Christmas spirit," notes Gilbert Seah for the naughty list at Afro Toronto.
"Violent Night is not a grade-A holiday winner (although it has been added to my seasonal watch list). But it's entertaining, and sprinkled with holiday hopefulness and humour," admits Thom Ernst at Original Cin. "You might have to forgive its succumbing to occasional excessive sentimentality. But it is, after all, a Christmas movie."
"Director Tommy Wirkola has made these kind of overlapping horror-comedy stories before, including 2009's Dead Snow (skiers vs. Nazi zombies) and the terrible 2013 flick Hansel & Gretel: Witch Hunters, with Jeremy Renner and Gemma Arterton," writes Chris Knight at the National Post. "It put the grim in Grimm. Violent Night nails the mix nicely – I could have done with the gore turned down a notch or two, but there are moviergoers who long for creative puncture wounds and bodies cut in half, and they will not be disappointed."
White Noise (dir. Noah Baumbach)
"Few filmmakers can give us characters who are problematic, sometimes even irritating, and yet, loveable and unforgettable," writes Karen Gordon at Original Cin. "But taking on White Noise is a major challenge for any filmmaker, especially one who obviously wanted to honour the book. Baumbach, aiming to be true to the source material, uses DeLillo's distinctive approach to dialogue, which is meant to be read, not spoken. It's understandable, but a choice that has given his fine cast a lot of challenges in making the conversation compelling. The dialogue gets tiring and leaden."
"Is the grocery store the skeleton key to unlocking DeLillo's novel, and thus Baumbach's film?" asks Barry Hertz at The Globe and Mail. "Almost certainly, so much as White Noise can be boiled down to just one thing or theme or feeling – a good-to-have problem that Baumbach uses to his advantage. With the same electric back-and-forth wit that powered his funniest films (Frances Ha, Mistress America, The Meyerowitz Stories) balanced with the reverence of a grad student who knows he cannot quite reach the heights of those he studies, Baumbach pulls off an adaptation that is as dynamic and complicated as the source material."
"It's acrobatic and mercurial and kind of exhausting at times but it's also funny, sharp, and truthful concerning the human condition and the things that get dumped on us unsuspecting mortals crammed into a frame," notes Anne Brodie at What She Said. "I didn't read White Noise by Don DeLillo so maybe I'm at a disadvantage. The actors are game for anything and 110% living and breathing the chaos. Awesome music by Danny Elfman and co-starring the always intriguing Don Cheadle, Raffey Cassidy, Sam Nivola, May Nivola, Lars Eidinger, Andre Benjamin (!) and British force of nature Jodie Turner-Smith."
"Unfortunately, Baumbach seems to want to both nudge and bludgeon (nudgeon?) us with his film's mortal messaging," admits Chris Knight at the National Post. "On the one hand we have the Gladney children, preoccupied with carcinogenic food additives and manifestations of medical distress. On the other, the older generation, willfully blind to the same factors. Jack has a conversation with his doctor in which he refuses to admit he's been in contact with the toxic cloud, thus forcing the MD into the circular conclusion that he has no symptoms of being in contact with the toxic cloud."
"White Noise is a delight in cinematic experience," raves Gilbert Seah at Afro Toronto. "Baumbach's film is as hilarious as it is terrifying, lyrical and absurd, but nevertheless mysterious and unforgettable."
"Much takes place in White Noise and it's easy to see why Baumbach wanted to tackle Don DeLillo, who is often praised for his imaginative takedowns of North American society, its hypocrisies and venal aspirations, in the wake of a world on the verge of collapse," says Marc Glassman at Classical FM. "Filmmakers like Noah Baumbach and David Cronenberg have embraced him, transforming his wild and brilliant texts into films that foreground action and character instead of language, in intriguing attempts to make them into cinema."
File Under Miscellaneous: Akerman Ascends, Planes' Returns, NFB Changeover
At the Toronto Star, Peter Howell looks at the unexpected shake-up of the Sight and Sound poll, which saw Chantal Akerman's Jeanne Dielman blindside onlookers and signal a change in winds. "Jeanne Dielman and Beau Travail [by Claire Denis] were the only two female-directed films in the entire 100 list of the 2012 Sight and Sound poll, where they respectively ranked in 36th and 78th places," notes Howell. "Now they're the only two female-directed films ever to make the Sight and Sound Greatest Films of All Time Top 10." He also shares his personal top 10 in which 2001: A Space Odyssey tops the chart: "Leaping from the Stone Age to the Space Age, Kubrick's cosmic epic is the definition of cinema's capacity to amaze and enlighten. It never fails to show me something new," writes Howell.
At The Globe and Mail, Barry Hertz looks at a situation at the NFB where the Board looks at its commitments to collecting data on racialized creatives as leadership changes. "I took the position saying that it might be illegal the way we collect that data, and it is, but I don't care," outgoing commissioner and board chair Claude Joli-Coeur told Hertz. "The margin of error between deciding who is a man and who is a woman remains limited compared to determining who is a racialized person. At the time, I said to my team, I'm ready to take that legal risk because of the impact of being able to commit to gender parity."
At the National Post, Chris Knight grabs a ticket for the re-release of Planes, Trains, and Automobiles: "A new DVD release of the movie celebrates not only the 35th anniversary of what has become an (American) Thanksgiving classic, but includes more than an hour of never-released deleted and extended scenes, recently discovered in the archives of the late writer/director John Hughes," writes Knight. "Hughes died in 2009 of a heart attack, aged 59. Candy was taken from us even sooner, in 1994, aged just 43. So it's great to see even a little more of his comic genius in this new release. We may not have him around any more, but we'll always have New York. And Chicago. And of course Wichita."
At Night Vision, Peter Howell breaks down last weekend's box office and peels pack the layers of success that Netflix could have enjoyed for Glass Onion: "Rian Johnson's Knives Out sequel could have earned as much as $50 million over the U.S. Thanksgiving five-day holiday, The Hollywood Reporter says. Instead the popular pic made a fraction of that amount because Netflix limited screens to 700 across North America, preferring at-home audiences to in-theatre ones," writes Howell. "The estimated $12-13 million it did take in (Netflix doesn't release audience figures) was still enough for a third place showing at the box office."
A Festival of Festival Coverage: Whistler While You Work

At POV Magazine, Pat Mullen reports on the documentary front at Whistler and speaks with the festival's executive director Angela Heck and programmer Paul Gratton. Doc highlights include All the Beauty and the Bloodshed, River, Revival69, and the world premiere of Jason Priestley's Offside: The Harold Ballard Story: "What will motivate people in Whistler to go see Offside is probably a deep and countrywide hatred of the Toronto Maple Leafs," Gratton tells Mullen. "What will motivate people in Toronto to watch it will be a fascination with this curmudgeonly character who defined sports-going and Maple Leaf Gardens in Toronto for years." Mullen also interviews Jason Priestley about his doc Offside and Deco Dawson for the hybrid drama Diaspora.
At the Toronto Star, Marriska Fernandes chats with Jason Priestley about chronicling the story of former Toronto Maple Leafs owner Harold Ballard, who may have been the first real "Trump" before Trump. "While we were making this documentary, we really had to remind ourselves that it really was a different time back then and we had to sort of avoid looking at Ballard through a modern day lens … guys like that can't exist anymore thankfully, but back then it wasn't just him," says Priestley. "It was George Steinbrenner, too, and there were other guys that were maybe not quite as bad as him, but it was very much a different time. But even for that different time, he was still very out of line, which was saying something."
TV Talk/Series Scribbles – Toons and Trees

At the Toronto Star, Marriska Fernandes interviews voice actor Eric Bauza about his new series Stay Tooned, lending his vocals to Bugs Bunny, and the state of diversity in animation. "I feel like if there were any wrongs that needed to be righted now, I could be part of that solution to show that we are moving forward and progress is being made," says Bauza. "You know, I never really thought of it that way because as a voice actor, this is not important. What I look like is not important. It's how I sound and how I act that's important. I just hope I don't get cancelled for not being a real rabbit. That's all."
At What She Said, Anne Brodie raves about the Canadian mini-series Three Pines: "So many snakes and ladders reveal the byzantine underbelly of Three Pines," writes Brodie. "And it is so well made, and authentic, it feels natural and real, and considers spiritual, mystical matters and nature itself." Audiences craving Christmas cookies, meanwhile, can get their fix with The Great American Baking Show: Celebrity Holiday. "Ellie Kemper and Zach Cherry keep the bakers merry as they scramble to create special holiday-themed bakes," says Brodie.