TFCA Friday: Week of Mar. 12
March 12, 2021
Welcome to TFCA Friday, a weekly round-up of film reviews and articles by TFCA members.
We have a winner! Congratulations to Kazik Radwanski's Anne at 13,000 ft. for winning this year's $100,000 Rogers Best Canadian Film Award. In case you missed the virtual gala, stream it below and catch acceptance speeches from winners including, but not limited to, Chloé Zhao, Riz Ahmed, Daniel Kaluuya, and Maria Bakalova.
In Release this Week
Above Suspicion (dir. Phillip Noyce; Mar. 16)
"I wonder if southerners are offended by these frequent portrayals as trailer poverty cases, murderous goons and drug addicts?" asks Anne Brodie at What She Said. "Watch in daylight."
At Afro Toronto, Gilbert Seah says it's "a boring film that seems to be made just because it is based on a true story."
Boss Level (dir. Joe Carnahan)
"I suppose you could do worse, though, than be destined to rewatch Boss Level until the end of your days," shrugs Barry Hertz at The Globe and Mail. "Boss Level is a rock-solid B-movie, with the 'B' also standing this time for 'Been There, Blown Up That.'"
"The results aren't brilliant, just ingenious enough to make for an entertaining time-waster," says Chris Knight at the National Post.
"The film's oddly fascinating, and although I realize it's not Poet's Corner, it's rough around the edges and it's a dude's universe, and Watts is there to wear a tight lab uniform, it's really funny, funny peculiar if you will," admits Anne Brodie at What She Said.
"The few spirited action segments are insufficient to hold interest in an otherwise tired well worn genre of a time loop premise," argues Gilbert Seah at Afro Toronto. "The film's open ending might indicate that the filmmakers have given up."
Cherry (dir. Joe and Anthony Russo)
"An ungodly Frankenstein's monster cobbled together with the leftover bits of Jarhead's toes, Trainspotting's needle-shot arm, and Go's brain that was long ago fried on drugs, Cherry is the worst kind of derivative filmmaking," says Pat Mullen at That Shelf.
Come True (dir. Anthony Scott Burns 🇨🇦)
At NOW Magazine, Norm Wilner calls it a "stylish, hallucinatory and quietly unnerving experience that might actually benefit from being viewed alone in the dark."
"In addition to being masterfully shot, Come True features some truly spooky electronic music – shades of early John Carpenter, courtesy of Pilotpriest, which is Burns' nom de musique," writes Chris Knight at the National Post.
"But after a while, this don't-trust-reality approach can be suspense-fatiguing," admits Jim Slotek at Original Cin. "Sorting out what's true and what's not becomes so convoluted that the abrupt ending seems a case of either running out of money or ideas."
Crisis (dir. Nicholas Jareki; Mar. 16 🇺🇸/🇨🇦/🇧🇪)
"The takeaway is that new opioid drugs come to market every year, 100K die from opioids every year, and use grows 20% every year," says Anne Brodie at What She Said.
"[A]t the 30 minute mark, one can tell that the film is in crisis," admits Gilbert Seah at Afro Toronto. "The film never recovers, plodding to its climax with the audience hardly caring whatever happens."
Death of a Ladies' Man (dir. Matthew Bissonnette 🇨🇦/🇮🇪)
"The better the movie's music, the better the movie had better be," suggests Chris Knight at the National Post. "Montreal writer/director Matthew Bissonnette thus sets himself a near-impossible task with a drama built around and inspired by the works of Leonard Cohen. And if he doesn't quite succeed, it's not for lack of trying."
"This is a deeply felt love letter to Cohen and a death knell to those old romantic notions of what a manly man is," observes Anne Brodie at What She Said. "The death of the ladies' man."
"With respect to Cohen's memory, a sympathetic tale of an aged literary horn-hound is a bit of a difficult sell these days, and as a friend once noted of an earlier adaptation of Cohen's work, only Leonard Cohen gets to be Leonard Cohen," argues Liam Lacey at Original Cin.
"Byrne gives one of his best performances in years, undercutting Samuel's disillusionment with a spark of wonder at every new vision, and Bissonnette…anchors the film's strangest moments in his star's exhausted humanity," says Norm Wilner at NOW Magazine.
"Given the film's limitations due to the storyline, writer/director Bissonnette still makes good with his quirky storytelling aided by lots of surreal encounters," notes Gilbert Seah at Afro Toronto.
"Throughout Death of a Ladies' Man, Cohen songs can be heard including 'Bird on a Wire' during a very odd hockey ballet and 'Did I Ever Love You' in a summation scene near the film's denouement. It is, like most of the film, a bit too 'on the money' to be poetic," writes Marc Glassman at Classical FM.
Dutch (dir. Preston A. Whitmore II)
"The film is hit and miss, mostly misses with a hardly believable tacked on 'happy' ending," sighs Gilbert Seah at Afro Toronto.
Hawk and Rev: Vampire Slayers (dir. Ryan Barton-Grimley)
"Hawk and Rev: Vampire Slayers is the kind of movie your cool slacker buddies would make to give everyone in the dorm a good laugh and not let that massive bag of weed go to waste," tokes Thom Ernst at Original Cin.
The Human Voice (dir. Pedro Almodóvar)
Citing a "bravura performance" from Tilda Swinton in this pandemic-era project, Chris Knight at the National Post says, "It's a clever way to keep the creative juices flowing, and a nice way to deliver something to fans who yearn for a richer, deeper film experience."
The Inheritance (dir. Vaughn Stein)
"The film's climax does not, unfortunately match up to the film's careful build up – (ending up) a slasher killer horror flick by the end," writes Gilbert Seah at Afro Toronto.
Jump, Darling (dir. Philip J. Connell 🇨🇦)
"Cloris Leachman is staggeringly beautiful in her final lead performance," writes Anne Brodie at What She Said, calling the film "an unvarnished take on familial ties, love, imbalance and the hope of healing, told without sentimentality."
"The film is just horrid though one can see Cloris Leachman trying her best to up the film another notch," admits Gilbert Seah at Afro Toronto.
Noting that the film features "the most Canadian onscreen sex scene in ages," Linda Barnard at Original Cin raves "casting Leachman as Margaret and remarkable newcomer Thomas Duplessie as budding drag queen grandkid Russell propels Jump, Darling into the winner's circle."
"In her final [lead] screen performance, Leachman displays some great comic timing, but she, as well as local lights Linda Kash and Jayne Eastwood, are wasted in a film that doesn't know what it wants to be, or say," argues Glenn Sumi at NOW Magazine.
"Jump, Darling is Connell's feature directing debut, and he wisely doesn't bite off more than he can narratively chew," notes Chris Knight at the National Post.
Loro (dir. Paolo Sorrentino; Mar. 16)
"[M]ost of the film has a one-note quality," says Susan G. Cole at NOW Magazine. "It's bold, wildly profane and some of the images are spectacular – but it doesn't work."
Night of the Kings (dir. Philippe Lacôte 🇨🇮/🇨🇦)
"Below the surface, Lacôte's movie is a beautifully shot parable within a parable, simultaneously about the ruptured, often lawless, civil-war-torn recent Ivory Coast and about the characters in a desperate round of storytelling," raves Jim Slotek at Original Cin.
"Director Lacôte, himself from the Ivory Coast, weaves a fascinating tale of horror and survival – a world seldom seen and hardly imagined," says Gilbert Seah at Afro Toronto.
"Lacôte occasionally throws in flashbacks and even a fantasy sequence to illustrate the narrative, but the movie barely needs them: the sweat and feeling pouring from Koné's face is more than enough to keep you riveted," praises Norm Wilner at NOW Magazine.
Calling the film "a must see," Anne Brodie at What She Said writes that Night of the Kings "a stunning achievement, a folk tale told via poetry, dance and drama."
"There's a bit of magic in the air beyond the bizarre shade of the full moon – as Roman begins to tell his tale, various prisoners leap up to provide sound effects, musical accompaniment, interpretive dance or impromptu feedback and criticism," observes Chris Knight at the National Post.
"Evoking Fernando Meirelles's City of God in its dazzling and dizzying portrait of youth on the streets—and, in one scene, name-checking it directly—Night of the Kings pulses with the same thrill of discovery as the 2002 film did," rites Pat Mullen at That Shelf.
Own the Room (dir. Cristina Costantini, Darren Foster)
At What She Said, Anne Brodie calls this portrait of aspiring entrepreneurs, "[f]ast-moving, with hope for them and future inventors competing with ideas meant to improve our lot as well as theirs."
Sacrilege (dir. David Creed)
"But despite a few rather gripping scenes, and a cast that is qualified to pull it off, the movie lacks intensity and a feeling of dread that would have been a driving force in fulfilling the horror element the film proposes to bring," writes Thom Ernst at Original Cin.
Underplayed (dir. Stacey Lee 🇨🇦)
"While the film remains focused on the struggles that these women have endured, there is plenty of room left to enjoy fairly lengthy samples of their musical accomplishments," notes Marc Glassman at POV Magazine.
"Director Lee's doc is quite shallow without going into the depth of the problem and perhaps a possible solution," suggests Gilbert Seah at Afro Toronto. "The doc is a series of one complaint after another and this gets really tiresome and boring."
Yes Day (dir. Miguel Arteta)
"Watching Yes Day is like watching and tolerating a friend's annoying growing-up kids," grumbles Gilbert Seah at Afro Toronto.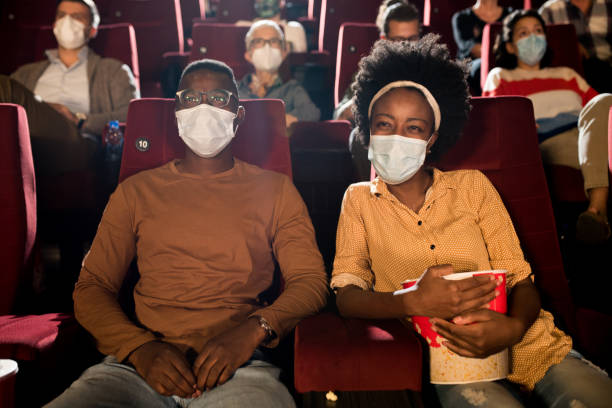 Happy COVID-versary!
March 11 marked one year since the World Health Organization declared COVID-19 a pandemic. Barry Hertz at The Globe and Mail looks at how Canadian producers have fared in a year full of setbacks. However, there's an unexpected optimism to be felt thanks to the Short Term Compensation Fund (STCF) and some long overdue business on the Netflix front. "The STCF acts as a lifeline that private insurance providers cannot currently provide, given that the insurance industry has universally written COVID-19 exclusions into its policies," writes Hertz. "While Hollywood films and TV series, including projects that shoot in Canada, are able to self-insure, many Canadian production companies would bankrupt themselves if faced with a COVID-sparked work stoppage."
TV Talk
At WWhat She Said, Anne Brodie checks out four series debuting soon: Attack of the Murder Hornets ("a battle cry to save life as we know it"); Behind Her Eyes ("Their unhappiness is visible in their decor, which looks like it was done by a prison warden."); the third season of Balthazar ("Terrific series, with its psychological angles, great writing and cases"); and Broad Appeal ("friending, slamming modern contemporary design, deconstructing flatulence, and the fact that the older you get, the older you want to get").