Whitehorse Wows Us: A Report from the Available Light Film Festival
February 23, 2023
Members of the Toronto Film Critics Association embarked on a whirlwind northern adventure this month as part of a media group attending the Available Light Film Festival (ALFF) with Telefilm Canada. The Whitehorse festival was buzzing with excitement thanks to a full opening night screening of Eternal Spring that marked a return to a full run of in-theatre screenings. (Many of which were jam-packed.) Members of the TFCA were also invited to moderate some post-screening Q&As with Johanna Schneller kicking off the festival with Jason Loftus and Masha Loftus for Eternal Spring, Jason Gorber chatting with the cast and crew of the local production Polaris, Marriska Fernandes engaging with the team of the NFB documentary Voices Across the Water, and Pat Mullen moderating the world premiere of the Yukon doc Caveman Bill with director David Curtis.
But the trip was especially exciting for our members as it coincided with the kickoff of the Yukon Quest dogsled race in downtown Whitehorse, the downing of an unidentified flying object nearby, and a Trudeau visit (apparently he was staying at our hotel!). The collision of local flavour and global events added some enthusiasm to a town that was already crowing like the supersized ravens that populate Whitehorse's streets.
Here are some highlights from this year's Available Light Film Festival.
What defines the ALFF experience for you?
The festival is a unique experience that invites you to watch many locally made films and soak in the experience of being up North. The Northern Lights excursion is a truly special one and getting to mingle with the local community adds to the occasion. You get the best of both worlds at this festival. – Marriska Fernandes
It was a privilege to do the Q&A for Polaris, a film with a deep local connection. I was warmly thanked over the next few days as I strode the main street by friendly locals and visitors alike. This sense of strong connection to the festival from a wide swath of the community, as well as the clear impact both the Yukon Arts Centre and the longstanding Yukon Cinema provides, shows that the heartbeat of cinephilia still pounds away in this northern part of our country. There's a hunger to leave the comfort of home and experience the best the world has to offer with an audience of friends and strangers, warmed by the light of the projector and sheltered from the chill outside. – Jason Gorber
First and foremost, the setting. If you want to raise eyebrows, tell folks you're visiting Yukon Territory in February. But that's precisely what makes ALFF so unique. It's not one of a bunch of festivals playing but rather, the community's defining film festival arriving at the exact moment when Whitehorse residents are starting to believe daylight and spring will return. Being surrounded by snowy mountains and trees — lots and lots of trees — is a refreshing reprieve for urbanites used to scurrying amid towering concrete slabs. And the people of Whitehorse are unfailingly welcoming. – Kim Hughes (read Kim's ALFF report at Original Cin.)
If I had to describe ALFF in one word, it would be "chill." Besides the northern climate, which offers a revitalizing wake-up each time one leaves the theatre, ALFF's location in downtown Whitehorse lets moviegoers get the best of both worlds. On one hand, cinephiles can gather in the dark and enjoy movies together on the big screen. On the other, ALFF is mere minutes from breathtaking outdoor activities that give a taste of northern living. ALFF also happens to be the most relaxed, easygoing, and friendliest festival I've attended. The festival is small enough that one can bump into colleagues and industry peers while scuttling around town, offering the chance for chats and check-ins between screenings and industry panels, but there's still the sense of an "event." It's refreshing be at a festival that feels like a shared celebration of film, rather than a gong-show junket. – Pat Mullen (read Pat's ALFF report at POV Magazine.)
Based on the people we met, artists are drawn to Whitehorse – for the community, the proximity to nature, and the freedom to live the way they want. Those are great qualities for filmmakers, too, and filmgoers. The films are scheduled with generous breaks, so you can check out what the town has to offer. And that's a lot. We sampled glass blowing, toured a wildlife preserve and chased the Northern Light. (Locals call it Aurora, and talk about it like it's a person: "Aurora was great last night.") – Johanna Schneller
Best Film at the Festival?
Polaris – MF
Isabelle Groc and Mike McKinlay's Part of the Pack may not be perfect – its score is overwrought, there are lingering shots of sad faces and aimless dolly shots – but these elements prove even more frustrating because, in many ways, this is a truly exceptional documentary. A film that tackles a deeply nuanced subject matter in a way that feels both fresh and vital, it has at its core a deep and rare level of journalistic integrity. Best of all, every one of the participants interviewed should come away from watching this must-see film feeling his or her perspective has been given a fair shake. Such a deft balancing act is all too rare when it comes to challenging subject matter, such as the core human desire to foster deep connections with those to whom we choose to be close. – JG
Voices Across the Water. Director Fritz Mueller's Valentine to the imperilled art of canoe building is visually stunning and almost ridiculously inspiring. Viewers watch as two men in the far north — one Indigenous and possessed of outsized charm, the other a wisecracking Francophone with a sketchy past — turn chopped trees into works of art that happen to float. Big life questions surface in small moments of meticulous craftsmanship, which Mueller and writer Teresa Earle capture with wit and grace. -KH
On the documentary front, I liked Pleistocene Park, Luke Griswold-Tergis's spirited portrait of an eccentric Russian geophysicist with a plan to reverse climate change by stealing reindeer and taking bison on mammoth road trips. But my favourite film of the festival was easily Trevor Anderson's fluorescently fabulous feature debut Before I Change My Mind. This coming of age story of a gender-exploring teen in 1987 Alberta was riotously funny, but also an insightful coming of age story that looks back to a time when kids didn't have the words or supports to help them discover themselves. It also delivered one of the most memorable "play within a play" bits of Canadian cinema with its MTV-spin on Jesus Christ Superstar, Mary Magdalene: Video Star. The laugh-out-loud funny musical took a wild premise and ran with it, and featured the sexiest Jesus since Benedetta. Something like the love child of Hamlet 2 and I Like Movies, Before I Change My Mind marked one to watch on the Canadian circuit. – PM
I won't pick a best, necessarily, but the most fun screening was for the locally shot Polaris, a scrappy indie. (Literally, it's full of scrap metal.) I think most of the cast, crew, and their families were there to celebrate. The film that keeps nagging at me is the documentary Part of the Pack, about people who raise wolf/dog hybrids. Co-directors Isabelle Groc and Mike McKinlay ask the question, "How far should humans go to connect with the wild?" They communicate their answer strongly but subtly. – JS
Pro Tip
Plan ahead so that you can make time to watch the films, attend the industry sessions—which are very interesting, like the short film pitch competition—and explore Main Street. And if you can, glassblowing at Lumel Studios is a must: you learn a new skill while getting to know more about the community. Even a trip to Yukon Wildlife Preserve is a must, as you see the Yukon animals in their element. – MF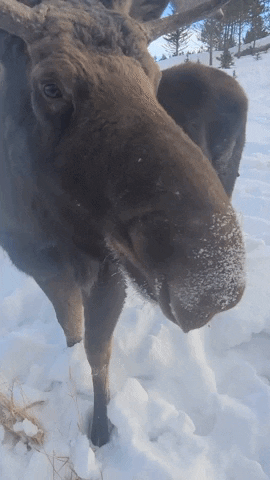 The Eclipse hot springs were a delight, but make sure you plan your trip for during the week when it's far less crowded. The extra planning makes it a perfect place to relax after a strenuous stretch of watching movies and eating excellent food. Speaking of which, big shout out to Bullet Hole Bagel – I cynically expected sub-Tim Horton's style round bread awfulness, and instead was treated to doughy goodness that made me plotz. Mazel! – JG
Ample warm clothing draped in multiple layers, obviously, and lots of drinking water to counter the dehydrating effects of that bracing cold. A visit to Lumel Studios is a must. Glass blowing may not sound riveting, but it is, and the backstories housed in its glassware aren't too shabby, either — cremated ashes of beloved pets or people incorporated into wearable keepsakes, anyone? If Whitehorse has a soul, it's at Lumel. -KH
Make the most of the daytime to do excursions and then see movies in the afternoon to evening slots. Our group had a lot of fun visiting Yukon Wildlife Preserve with a tour by Who What Where. The preserve is barely a 20-minute ride from downtown and offers a walkable encounter with northern wildlife. The friendly moose on the tour provides as much or more excitement as the movies do, which is no slight at the programming—that's one happy moose! There's a really great game butcher just around the corner, too, for anyone eager to eat the animals they encounter. (Tum Tum's elk sirloin makes for a delicious souvenir!) Also make sure to plan meals accordingly since many restaurants, pubs, and coffee shops are closed Sunday and Monday due to labour shortages. The best place for coffee and a snack is Alpine Bakery. It's a bit off the main thoroughfare (an extra two-minute walk in Whitehorse terms) and is just the ticket for a stretch and pick-me-up between screenings/activities. – PM
Get the clothing rental package from one of the local outdoor outfitters. We used The Base – coat, boots, pants, mitts and hat, starting at $124 for a weekend. And they drop off/pick up from local hotels. Also, pay attention to what's open when, and plan your meals and shopping accordingly, because many places are closed Sundays and Mondays. – JS
Would You Go Back?
Absolutely. I'd say come for the films and community, and stay for the scenic beauty that radiates in Yukon. –  MF
We were lucky enough to not suffer through the usual frigid temperatures of this time of year, with the thermometer never dropping below -10°C during our entire stay. To witness Yukon at -30°C would be masochistically fascinating, but I genuinely would love to come back and contribute to this richly programmed and warmly received fest. I would return any time I was invited, if only to capture the Northern Lights show with my eyes rather than via long exposure photography! – JG
In a heartbeat though likely in summer to explore the myriad hiking trails winding through those incredible, abundant trees. -KH
Can I book now for 2024? I've never felt relaxed during a film festival, so settling into the mellow vibe of ALFF is an experience I'd be glad to repeat. – PM
100%. ALFF hits that sweet spot when the light is just coming back and people are ready to mingle. Their energy is infectious.
PS: It's The Yukon, not Yukon. Definitive answer from everyone I asked. – JS